Aventon eBike Introduction
A Bike For Everyone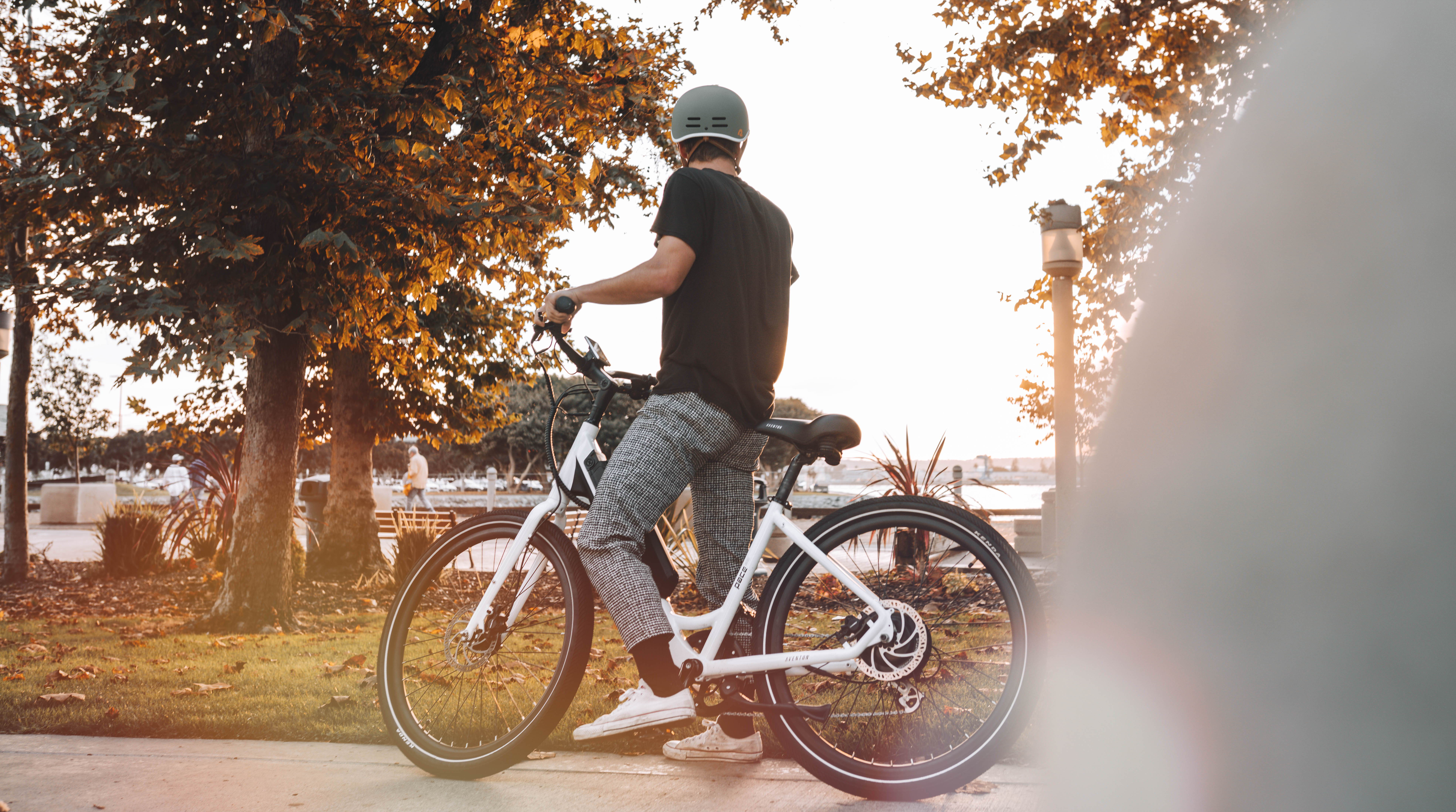 Aventon Affiliate Partners:  Avantlink
---
Aventon is the first eMobility company for the real world. Equal parts form and function, eBikes offer riders the freedom and ability to navigate the day their way, while helping to offset our collective carbon footprint. With a full line of user-friendly eBikes catering to adventure, commuting, and recreational riding, Aventon truly has a bike for everyone.
Aventon is known for its unique blend of quality, design, performance, and real-world pricing. With 10 years of experience in the cycling industry, Aventon is a trusted name with a wealth of experience. Providing affordable ways for riders of all ages and abilities to join the eMobility movement is the foundation Aventon has been building on since day one.
Recently named the feature eBike brand of Best Buy, Aventon is reaching more and new riders than ever before. Available and in-stock online with 2-hour Geek Squad support, partnering with Best Buy is helping give eMobility a larger voice and platform, setting Aventon apart from the pack. In-Store experiences at Best Buy will be coming later this year.
Below is an overview of Aventon's current range of eBikes with new and refreshed models dropping in Q1. We would love to talk with you about the future of emobility and how Aventon can play a part in any editorial or affiliate coverage you have planned in the New Year.
Aventon Model Overview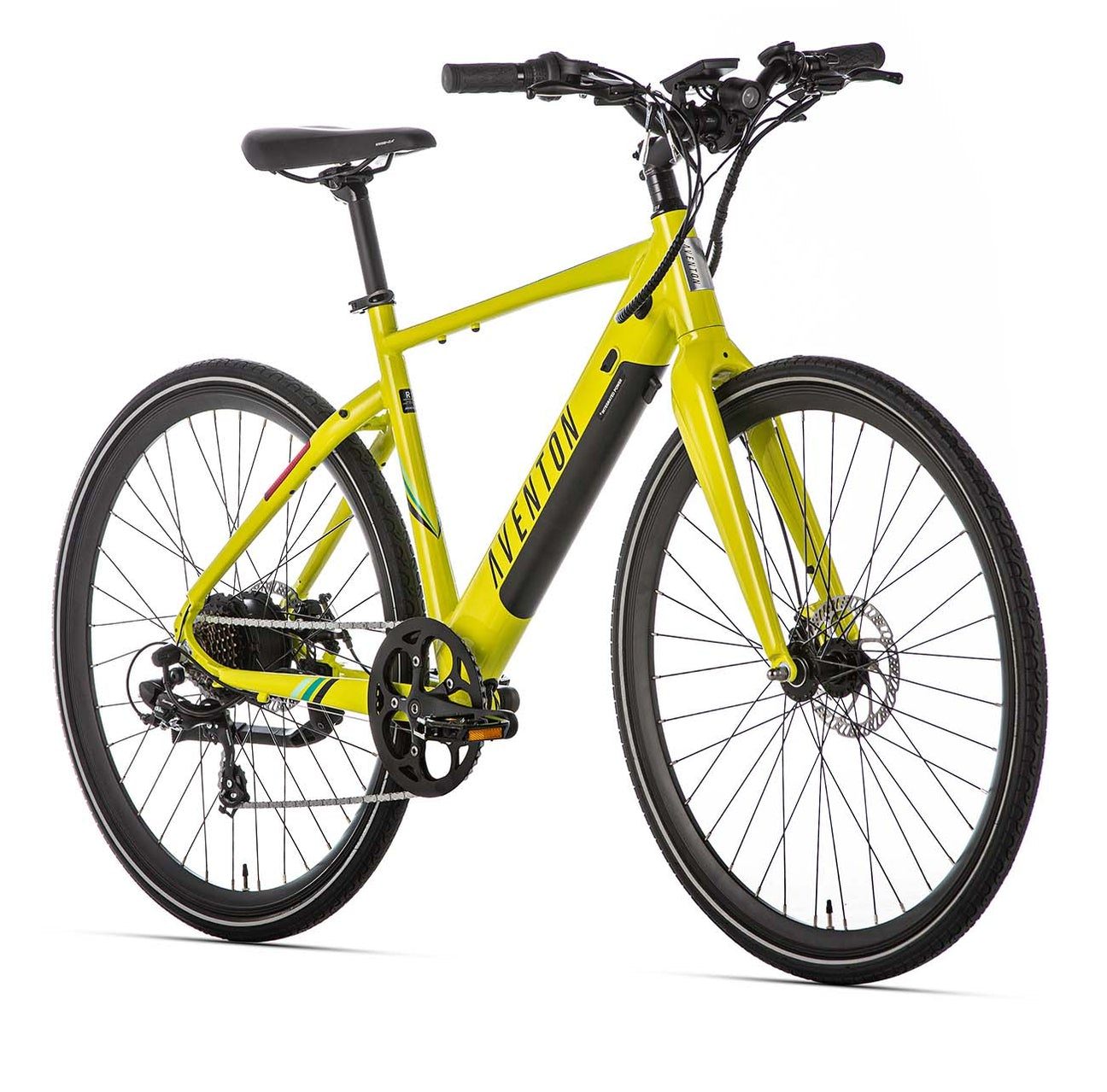 Soltera
Aventon's newest eBike, the Soltera, is nimble and powerful enough to replace your car in the city yet lightweight enough to carry up a flight of stairs after a day's work. With four colors available, two drivetrain options, and traditional and step-through frame types, there's a Soltera for every rider. 
The Soltera is designed as a lightweight, affordable eBike that seamlessly integrates into urban life. With enough power to replace your car, the Soltera is the perfect bike for commuting, shopping, or recreational rides. In a nod to Aventon's roots, the Soltera comes standard with a single-speed drivetrain for low-maintenance simplicity. For those in hilly areas, a seven-speed option is available too for pre-order. At a starting price of $1,199 ($1,299 for the seven-speed drivetrain), the Soltera is an unbeatable value. 
Highlights:
---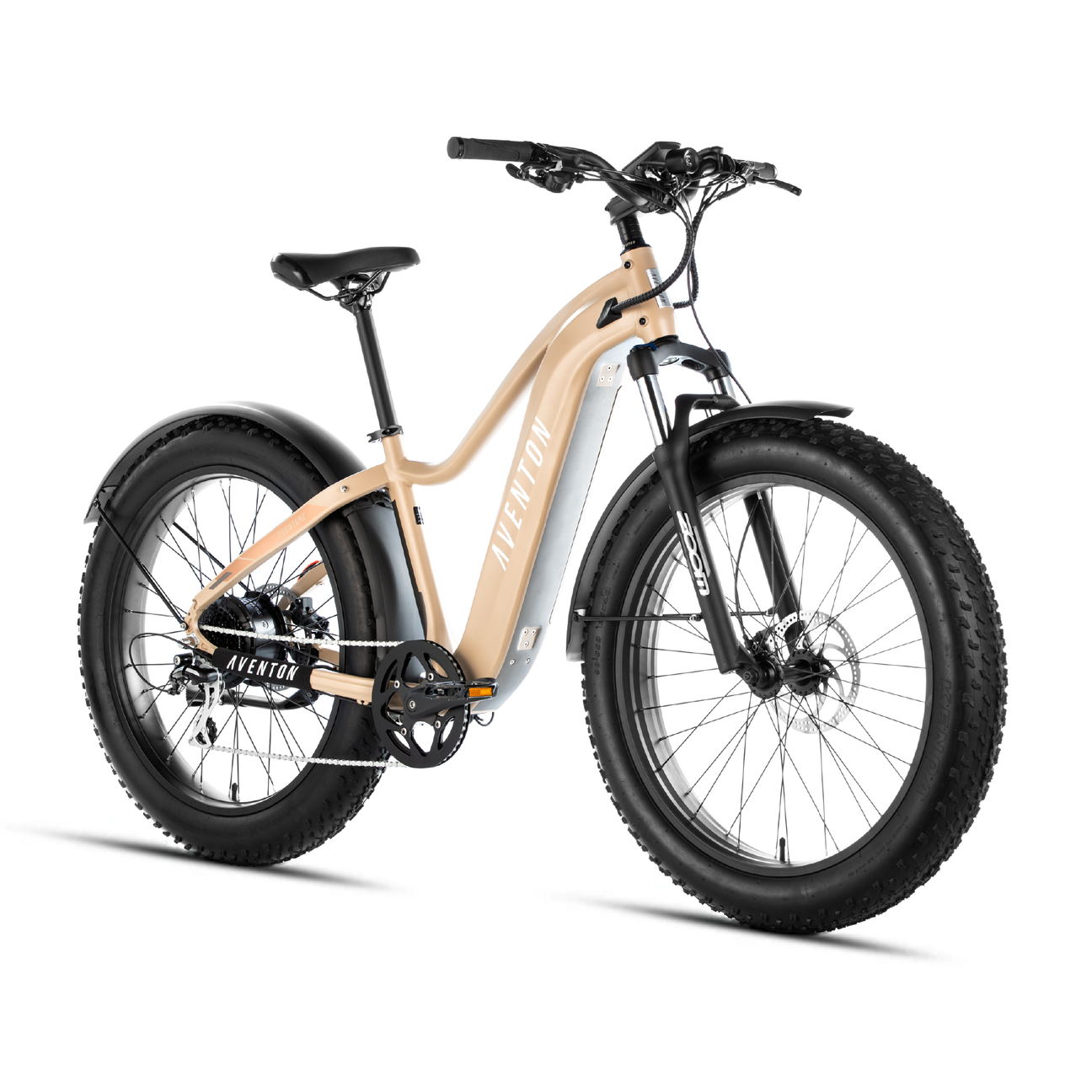 Aventure / Aventure Step-Through
As beautifully elegant as it is rugged, the Aventure is the most powerful and versatile eBike in the Aventon range. With a front suspension fork, fat tires, and exceptional handling you can be sure of the most comfortable ride across whichever terrain you choose, whilst built-in fenders and integrated front and rear lights ensure that wherever you go you'll be both seen by others and protected from the terrain beneath you.
While the Aventure ships as a Class II eBike, it can be configured into a Class III with its high capacity battery and powerful rear hub motor. Topping it off is a color display that syncs to the Aventon app for customizable functionality. Available in conventional and step-through frame styles. 
Highlights
---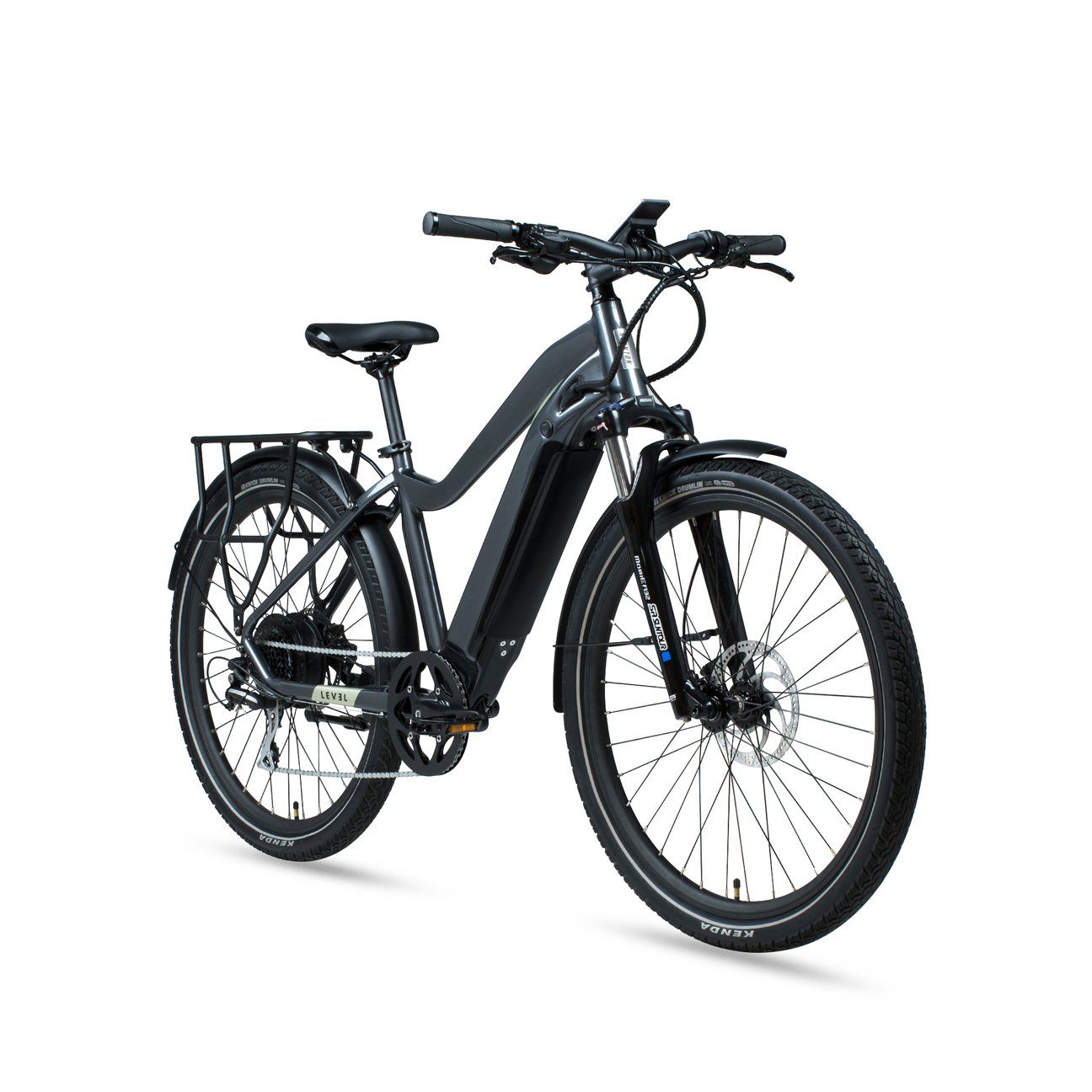 Level / Level Step-Through
The Level is Aventon's flagship commuter eBike with unrivaled ride-ability you can trust day in and day out. The front suspension fork provides ultimate comfort whilst riding across any surface and the incorporated fenders protect you and your outfit no matter what the conditions are like outside. A preinstalled rack ensures that no matter how much gear you have, you can take it all with you. Fun and versatile, the Level is perfect for weekday commutes and weekend rides. 
Highlights
---
Sinch Foldable eBike
It isn't called the Sinch for no reason. Foldable, portable, storable, powerful, comfortable, and ready for anything, the Sinch folding eBike truly makes both riding and storage easy. Your Sinch compact electric bike will fit in your closet and under your desk, meaning it's almost infinitely portable! The Sinch is a bike that can truly be taken anywhere. With 4" fat tires and a front suspension fork, simply unfold and cruise pavement and conquer the trails! The powerful motor and stealthily integrated battery mean that you'll never be short of power, and 5 levels of pedal assist and an on-demand throttle mean that you can go as hard or as light as you want. 
Highlights
---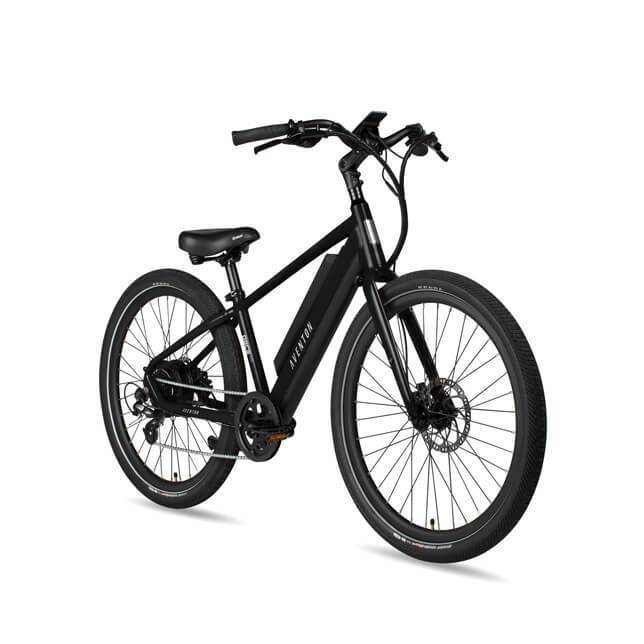 Pace 500 / Pace 500 Step-Through
The Pace 500 provides riders with the ultimate balance of comfort and power. With an upright cruiser frame and a cushy saddle, you'll be comfortable no matter how long the ride! Five levels of pedal assist plus a throttle function mean that you can expend as little or as much energy as you like while doing so. The 750W motor is also usable in Class III mode, upping the top speed to 28 MPH. The Pace 500 is Aventon's most popular model. 
Highlights
---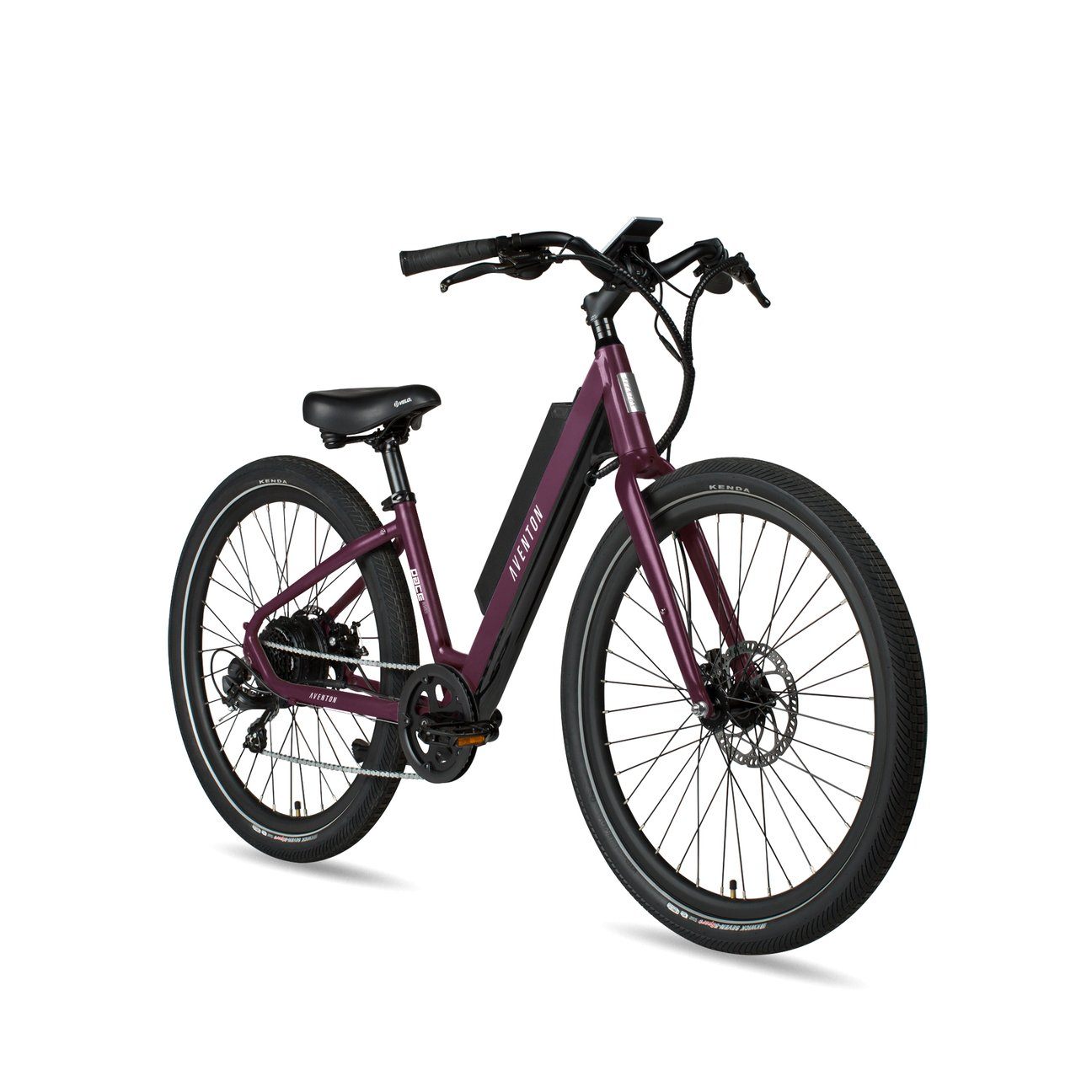 Pace 350 Step-Through
Combining accessibility, comfort, and power with affordability, the Pace 350 breaks the mold of the traditional eBike. A cushy seat and upright step-through frame provide the most relaxed and comfortable ride in its class. Add in 5 levels of pedal assist and a throttle function which removes the need to pedal and you have an eBike that gives the rider total freedom on how hard they exercise and how much help they receive from their eBike. Combined with a 35-mile range, a maximum speed of 20mph, and an overall weight of just 46lbs you can see why the Pace 350 has proved to be so popular. 
Highlights